Miriam Mendoza loves kids and loves teaching as the Education Director for Houston Center for Contemporary Craft. At HCCC, she coordinates a free monthly Hands-On Houston Family Day giving parents and children an opportunityt o experience different craft media and techniques first-hand. She engages kids to become active makers and to have a tangible connection to craft. She even develops kid-oriented exhibition activity guides to engage children with the objects of art on view and coordinates after-school craft classes at local elementary schools.
What does your job entail?
My job is to educate through guided tours of our exhibitions. We have different exhibitions throughout the year so there's always something new to see. But I can't do it alone, so I manage volunteers who donate their time as tour guides like I once did. I also organize annual events with artist demonstrations and hands-on learning experiences. I manage our artist residency program. Artists from all over the nation are given a studio space in the museum and agree to have their doors open to the public so that visitors can interact with them and ask questions. I also hire teaching artist to teach craft classes at local schools or at our museum.
My job is done when I have piqued your interest about craft, when I have sparked your curiosity, when I have instilled a desire to learn more about it on your own.  I create those opportunities to learn more about it if you wish to do so.
How did you become involved in working with your organization?
My career path has taken a lot of twists and turns.  If I met you today, I would introduce myself as the Education Director at Houston Center for Contemporary Craft.
But for the sake of having fun, let's rewind my life by about 10 years. Picture me wearing a white lab coat and safety goggles quietly conducting research experiments in a genetics lab. If you fast forwarded a couple of years, you would see me as a pre-school teacher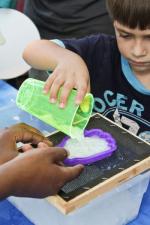 surrounded by a bunch of adorable 3-year olds, each asking me a different question and expecting an immediate answer. Fast forward a few more years and you would see me recruiting, training, and managing hundreds of adult volunteer tutors that will help second grade students become better readers. In the middle of the day during my lunch break,  you would see me volunteering at the local art museum as a tour guide for school-aged children. Now, press PAUSE.
I asked you to press pause because at that time of my life I too paused and looked back at my life. Looking at my career trajectory so far, you may realize that I have a wide range of interests.  I find biology fascinating. I love reading and learning. I like to teach and share knowledge. I am passionate about creating and appreciating art. It all boils down to a love of: science, education, children, and art. I wondered if there was a career that would allow me to fulfill all of my passions simultaneously.
That is when I had my 'Aha!' moment.  Indeed there is. If you recall, I introduced myself as the Education Director at Houston Center for Contemporary Craft. What does my position entail The short answer is that I get to educate children and adults about art.  To be more specific, I get to educate the public about Craft. As you may or may not know, craft is art made in any of the following five materials: Clay, Metal, Wood, Glass, and Fiber.  Craft is about the process of making and there is a whole lot of science in that. It involves investigating a material and experimenting with it to manipulate, transform, and create.

What is the most fun part of your job?
The most fun part of my job is learning about craft through hands-on experiences. I was a lab researcher and I know that I understand something best when I experiment with it. The real learning comes from a hands-on experience, a personal connection with the materials. The fun is in the personal explorations and experimentations. For instance, when I take a chunk of clay in my hands, I understand it better instantly. I can feel how it is different when it is wet vs. when it dries. I can start to know its properties intuitively, and start to actively learn about it. It involves thinking critically, asking questions, experimenting, and creative problem solving.
What are some of your favorite events at your organization?
Hands-on Houston every first Saturday of the month and the oversized version called Hands-on Family Festival that happens every fall. Museum Experience in which artist demos abound happens the last Saturday of April. Empty Bowls in May is a neat event, artists donate thousands of handmade bowls in all media and these are sold to the public to benefit the Houston Food Bank. We also have a fun fundraiser in January called Martini Madness (see below) and a more traditional spring luncheon fundraiser in May.
What kind of unusual things have you done in the course of your job there?
Every year, I dress up in mid-century attire at our unusually fun fundraiser event called Martini Madness. Guests are invited to dress in Mad-men style attire as well. At the beginning of the night guests select a one-of-a kind handcrafted glass, drink bottomless Martinis all night, and get to take their glass home at the end of the night. There's usually great food, live music and a fun photo booth.
What are some great ways that parents can get kids interested in helping out?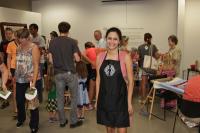 I coordinate family events for children and their parents to  come create a craft object. In this context, I'm not talking about your typical arts and crafts. I'm talking about craft objects made in clay, wood, metal, glass, or fiber. There are so many different fun techniques and ways of manipulating craft media. My job is to make craft process accessible to families and give them a hands-on experience that is both educational and fun. Usually, local artists lead these events, so the children and parents also get to interact with artists and ask them questions about their process and how they became such experts and masters of their chosen craft.
---
Click here to get back to the main article: 12 People Who Make Things Happen for Kids in Houston